After the double, here comes the expected Fantasy Premier League blank gameweek 28. Brighton, Fulham, Liverpool, Manchester City, Manchester United and West Ham do not play as their fixtures clashes with the FA Cup quarterfinals.
Without further ado, let's move to our FPL GW28 Tips, where we discuss best picks, transfer targets, captain, differentials, odds & team selection. We will also discuss what we plan to do with the top-scoring player in the game – Erling Haaland.
1. Fantasy Premier League Blank Gameweek 28 Tips
You do not need to have 11 starters for blank gameweek 28.
9-10 QUALITY players are enough (big emphasis on quality)
Aim to have 3 Arsenal players – our trio would be Saka, Martinelli and Gabriel
If you are not on any chip, focus on players from teams who play in blank GW28 and also have a double gameweek in GW29, such as Newcastle, Brentford, Aston Villa, Leicester…
bench Rashford, keep him for double gameweek 29
2. Key players to own and transfer targets for GW28
Kane – your captain for GW28
Trippier – plays in blank GW28 and has a double in GW29
Saka – the best Arsenal player and you want the best players from best team in your FPL squad
2nd Arsenal mid: Martinelli or Odegaard
Arsenal defender: Gabriel or Zinchenko
Toney
Chelsea defender/goalkeeper: Kepa or/and Chilwell
Watkins
2nd Newcastle defender: Pope or Botman
3. Fixtures to target in Blank Gameweek 28
In which fixtures we could expect a lot of fantasy points? Fixtures to target in blank GW28 according to bookies odds:
Arsenal vs. Crystal Palace: The Gunners 73 % to win, 38 % to score 2.5+ goals
Chelsea vs Everton: The Blues 66 % to win, 29 % to score 2.5+ goals
Aston Villa vs Bournemouth: The Villans 57 % to win, 26 % to score 2.5+ goals
Nottingham Forest vs Newcastle: Newcastle 56 % to win, 22 % to score 2.5+ goals
Southampton vs Tottenham: Spurs 51 % to win, 22 % to score 2.5+ goals
4. Differentials for GW28
Son (Tottenham, 11.6m)
owned only by 5.8% of FPL managers
great one week punt (mainly for free hitters) for Blank Gameweek 28
There are not many hitters to choose from in blank GW28
Chilwell (Chelsea, 5.8m)
selected only by 3% of FPL managers
not just one week punt, but longer term pick, for double gameweek 29 as well
Great attacking threat, 1G + 1A in last two Premier League matches
5. Best captain pick in FPL GW28
There are two good captaincy fixtures in blank gameweek 28. You either go for Harry Kane or an Arsenal midfielder. For us, Kane is a clear option as he is very reliable this season, although (on paper) his fixture is a bit tougher.
6. What to do with Haaland?
Haaland's form has not been great lately, and he has just one fixture (against Liverpool – although their defence is pretty leaky this season) in the next two gameweeks. Few other good forwards have 3 fixtures in next two gameweeks and could outscore him.
It is totally fine to bench Haaland in blank GW28 and then play him against Liverpool in Gameweek 29. However, our verdict is: SELL for Watkins, who is in good form, has a good fixture in the blank GW, and then plays twice in double gameweek 29. Of course, we will aim to bring Haaland back after GW29.
But you must know that it will cost you more money to bring him back after double gameweek 29.
This decision is full of risk, so if you are a risk averse FPL manager, rather aim to bench Haaland in GW28.
7. Using Chips in Blank Gameweek 28: Free hit?
Gameweek 28 could be an opportunity for managers to use their free hit. But only if you cannot field 9-10 quality players with one -4 points hit. Otherwise, a free hit could be more valuable in blank gameweek 32 or in double gameweek in GW34 or GW37.
If you plan to use some of your chips in FPL GW28, here are our drafts for your inspiration:
8. FPL GW28 Team selection
Now let's look at our FPL team selection for Gameweek 28 – Scout squad. Kane is our captain. Mitoma and Rashford on the bench – picks for double gameweek 29.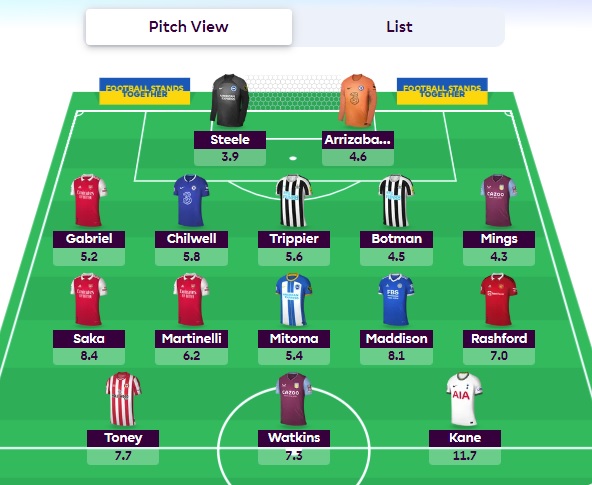 9. Fantasy Premier League Tips
Find more tips, strategies and picks for Fantasy Premier League in these articles:
We hope our FPL GW28 tips helped you to gather some useful information before the blank gameweek 28 deadline.
Join our Fantasy Football Reports League if you haven't already with a league code of zte1cv. Or click the auto-join here.
Good luck in FPL GW28!